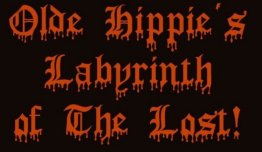 Greetings Visitors!
I am pleased to present my first attempt to make a "game".
This is a "Labyrinth" or maze, if you prefer.
It takes place within a solid black environment, much like a cave.
The "rooms" will be connected via "doorways" you find with your cursor.
I have a free graphic to show you were "Lost" here.
Of course there will be one for finding your way out, too *grin*.
Enjoy! Olde Hippie
Now, on to the fun!
First step is to
Click Here
and ~find~ your way inside.


Here's a free logo if you want one.
Kindly link it back to:
http://members.tripod.com/~BigBit/index.html
Here is a FAQ page with answers to some questions. FAQs Here
Note: The maze is up and working!
News Flash!!
I am now finished with the second part.
It continues from the end of the first part.
"Grand Opening" NOW!
For those interested, I ~was~ doing a Part III.
Due to lack of interest, and inability
to get on search engines, it is on hold for now.
Will keep you posted here.
Webmaster oldehippie at hotmail dot com (fix to email)

Created March 20, 1999
Opened March 24, 1999
Updated August 26, 2004