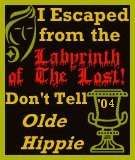 Please, if you use a graphic, let me know, and link it back to:
http://members.tripod.com/~BigBit/index.html
Thank You.
Congratulations!
You found your way out, good job!
If you want to be included on a page dedicated to the Escapees.
Mail me here: oldehippie@hotmail.com and I'll add you.
Only need a name, handle or nickname from you.
Olde Hippie
The Escapees
Snookum
Kendra
CyberKender
Phoebe
Bonkity Bonk Bonk Bonk
Stephen "The Forester"
Drgn_paws
Dhannti
Jason
Steven
A Rennie
Dragon
Tommy
Tracey
John
Luke
Terry
Angie
Janice
Felix
SimPhony
Lost Lucy
Kevin_3
CoffeeClutch
Stewart
LindeeLou
Saffron
Sam Hawkins
Just Me
Introducing Labyrinth Part Deux!

Go Here
New graphic too!